Haidong Shark will bring a new sensation. Fat tire electric bikes, due to their ability to equally perform on roads and mountains are becoming very popular. You have seen these e-bikes everywhere these days. These modern bikes promise a good bike ride experience on all kinds of tracks. Those Fat tires will do their job anytime, anywhere!  Busy streets, snow, mountains, or deserts, no matter where you go, Haidong Shark will not let you down. we will share details about the best fat bike for your adventures. You can keep on reading to know it all.
What is the Haidong Shark electric bike?
Haidong Shark is a fat tire e-bike. These comparatively thicker tires than regular bikes provide extra road grip. The extra width offers them the flexibility to traverse on different surfaces. Fat tires perform well on different terrains, whether it's a snowy patch, grassy field, or desert dune.
Moreover, fat-tire makes it the perfect choice for off-road adventures. These multi-purpose e-bikes are versatile and allow rides in different weather conditions. They are ideal for hunters, adventurers, and anglers as they offer improved balance.
The qualities make flat tire e-bikes a modern solution for riders of all age groups. Because of the increasing trend of fat bikes, various options are available.
Features
HAIDONG Shark a fat tire electric bike has an impressive matte finish. This all-terrain e-bike looks a class apart from all competitors. Moreover, this sporty electric bike comes with exciting features. Let's start to explore them all.
Motor
HAIDONG Shark runs on a 750.0W Upgraded Brushless Geared Hub Motor. It is the most advanced motor being used today. This monster bike offers a torque of 86Nm, so you can easily manage to ride on hills or rough terrains. The large inner ring ensures better heat dissipation, reducing the motor magnets' attenuation speed and adding more years to the motor life.
Battery
An efficient battery time not only improves the performance but takes the charging hassle off your shoulders. HAIDONG Shark fat tire electric bike is powered with a 48V 20Ah Samsung/LG Lithium Battery. The bike operates on a 960.0 Wh battery. It is the best battery ever used in an electric bike.
It is accompanied by a 3.0A smart charger and takes 7 hours until fully charged. The time frame matches the standard time as most bikes in the market. When it's fully charged, it can run up to 60 miles on electric power and go to more than 80 miles with pedal assistance.
Hydraulic Disc Brakes
The powerful hydraulic disc brakes are excellent. It comes with 180mm rotors. You can stop your bike immediately with this brake system. The short braking distance gives the rider more control over the bike. Moreover, these brakes have easy maintenance.
It comes with a 7-speed gear system. This advanced system allows you to switch swiftly from one gear to another. This feature also enables you to have a better grip on your bike.
Built-In Controller
Haidong Shark has a built-in controller! What more could you ask for? This HAIDONG Shark fat tire electric bike reduces 95% chances of mechanical failure in extreme weather conditions. So, you do not have to worry about any track, whether it is snowy or rough. Moreover, it has a waterproof body, so it's your friend on rainy days as well. This model has got you covered for all seasons.
Frame
The frame is made from 6061 aluminum, making this ride suitable for off-road conditions and offering the required stability. It is 3 times stronger than other frames available in the market. The bike can manage a load of 400lbs. Even if you are tall, like 6'4, you can ride this bike easily.
Tires
Haidong Shark is famous for its tires. Those fat tires add to the performance of the bike. The Haidong Shark e-bike contains the best quality tires. These are all-terrain fat tires with 26×4.0 KENDA dimensions.
These tires offer upgraded grip and skid resistance ability. The unique tread pattern is tested for riding in extremely wet and slippery conditions. You can ride the bike on almost all tracks such as mountains, beaches, sand, forest, and it won't get stuck anywhere.
The bike comes with custom up-gradation options. You can upgrade the tires from 4" to 4.8".Thanks to the additional fork spacing option, which helps you gain control of the rocks and bumps throughout the ride.
Display and lights
Are you a nightrider? Do you like to roam the road till late at night? If yes, you do not need us to tell how dangerous bike riding can be without proper lighting. The visibility drops to a minimum, and it becomes difficult to see anything at all. However, this e-bike steals the show with bright headlights. Bright light makes it easy for you to see any obstacle. This feature makes it a suitable ride for late-night adventures.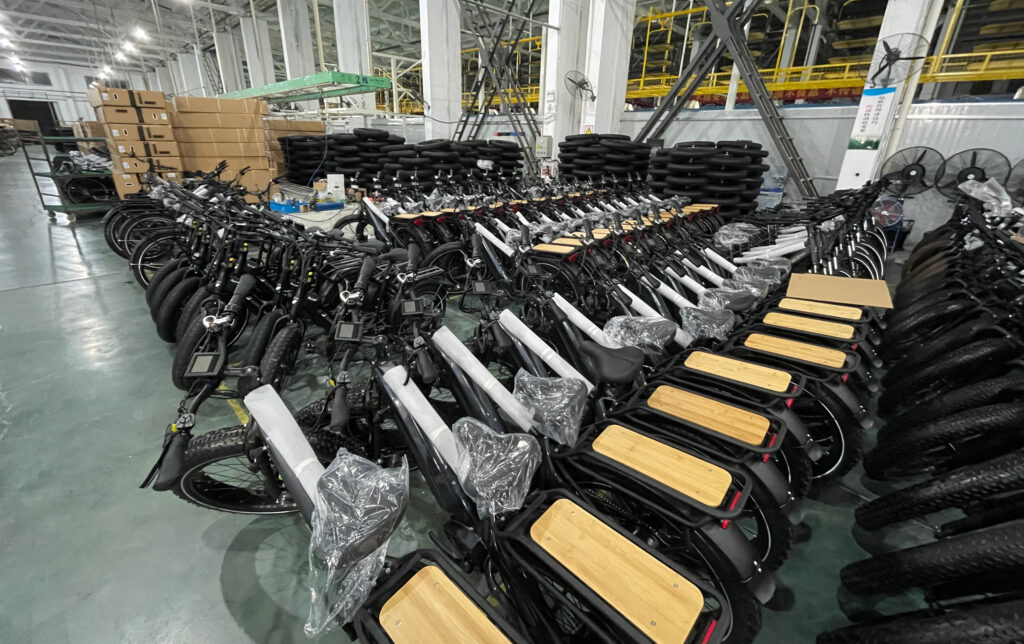 Haidong Whale:
Haidong Shark is designed for men, if you are a female and looking for an adventurous bike to ride on both roads and off-road there is good news for you. Haidong Whale contains all Haidong Shark's features but is exclusively designed for women for better handling and comfort.
Conclusion
If you like adventure and want to buy an electric bike, the Haidong Shark or Whale electric terrain bike is worth consideration. You can ride this bike across any surface. The performance on roads and off-road is equally impressive. The premium quality material, comfortable saddle, perfect height, and remarkable design with matte finish make this bike ideal.
Our detailed guide about the powerful Whale/Shark terrain e-bike will help you make the right decision. We have covered all aspects and other striking features this bike offers to enjoy your adventurous plans.
Now, it's time to turn heads around as you get on the road on this hulky ride.