Factory Selling, No Middleman
In the traditional marketing model, there may be multi-level agents and trading companies between distributors and factories. Distributors have been compressed profit margins and it is difficult to solve after-sales problems. From the experience gained from global dealers, the direct contact between factories and distributors is a quite important step, especially for small companies that are just starting up to engage in the ebike industry. We treat every distributor equally, wherever you come from, no matter the scale is. Haidong has its own factory and is committed to providing high quality products directly to distributors. This is what distinguishes us from traditional manufacturers.
What Is Electric Bike Dropshipping?
As our distributor, you do not need to store a large number of electric bicycles in a warehouse. When a customer buys an electric bicycle from you, you only need to provide us with the customer's order and shipping details, and we will deliver the bicycle directly from our warehouse to your customer, with no information indicating the package from China supplier.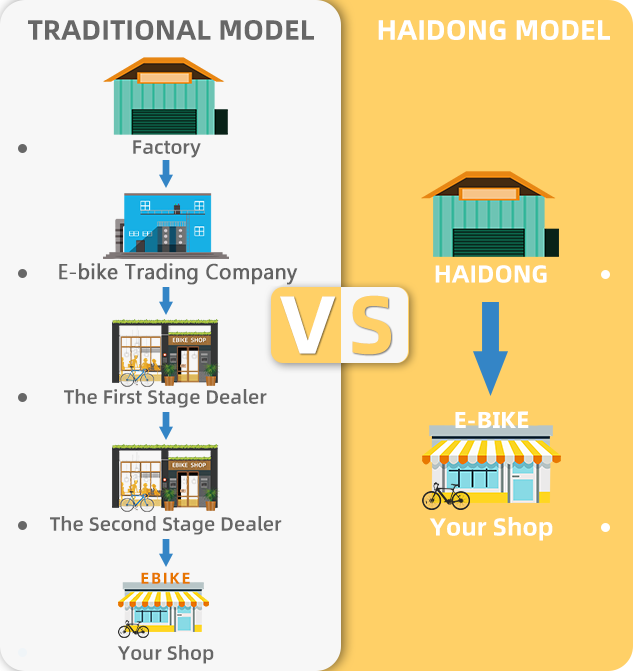 Reduce your inventory pressure and storage costs, so you don't have to worry about managing excess inventory. Please provide the customer's shipping information directly, we will be responsible for the delivery throughout the whole process, you don't need to worry about packaging and logistics. If you sell our existing models, our overseas warehouses in North America and Europe can provide you with one-stop delivery service at any time, and deliver the goods directly to customers.
We will provide all the product information for you to sell our products directly. With a laptop and network, no time and place restrictions, and you can easily carry out your business.
3. Excellent after-sales service
Don't worry that we don't provide good after-sales service. We will provide detailed assembly instructions, maintenance services, etc. When Haidong has new products on the line, you can also sell directly without other costs.