As the COVID restrictions are easing up in different parts of the world, this is a great time to enjoy the outdoors. If you are up for some adventure, it might be a good idea to indulge in the fat tire e-bike. It is ok if you do not know what this is? As the name suggests, its tires are thicker than regular bikes. Which means they can brave all kinds of terrains. On the flip side, they are a little harder to pedal. Why suggest them, you may ask? Because even though they are hard to pedal, they have electric motors to supplement your efforts.
What is the point of getting a bike in the first place if it comes with electric motors? You want to enjoy the outdoors while working out. I understand that. The good thing is you can do both with the all-terrain fat tire e-bike. Sure it is harder to pedal, but the electric motor helps you deal with that. How about I break it down for you to understand; why is it a good idea to get a fat tire e-bike? And obviously, what should you be looking for when getting?
Lesser Flat Tires
The fat tire e-bikes are less likely to puncture, thanks to the tire's thicker walls and sturdy structure. Even when they do, they are not pinched flat. The sidewall of a fat tire is tall enough to prevent a complete compression and eventual pinched tube. That means a fat tire does get a puncture, but less often than the regular ones. It brings to light a minor inconvenience, fat tire tubes are heavier than routine tubes and might be slightly more inconvenient than the regular ones.
More Comfortable
It is probably one of the most satisfying features of fat tire e-bikes. Since the tires are fatter and thicker, they use more plastic, retain more air and work well with lesser air pressure. So, when you hit a bump, the tire cushions the effect helping you to stay in control. With better control on the wheel, you become a more confidant rider. You can also adjust the pressure for various surfaces, say lower it for off-road surfaces and higher for firm ground.
Fit for All Terrains
Since fat tires are big and function at varying pressure levels, they make great companions on varying terrains. You get a better grip and enhanced traction even on some strenuous surfaces. The extra contact surface of a fat tire enables a good impression even when the ground underneath is not so good. You can enjoy your ride on a snowy surface just as much as you can on a beach. Increase the tire pressure; you can hit the pavement with the same ease. How much you enjoy fat tire e-bikes and the number of surfaces you can handle; depends on your skill level. Once you get the hang of it and practice your way to gain better control, you will have more and more fun with it.
Great Workout
Cycling is a full-body workout. The effects multiply when you are using a fat tire e-bike. Since these tires are heavier, you need more effort to pedal such a bike. Therefore, enabling you to engage in a more intense workout. You get to work your leg muscles on hard surfaces like concrete, whereas the focus shifts to your core as you traverse an off-road surface. Routine biking will enhance your stamina; you will attain a better heart rate. It means that over time you will feel less breathless over longer courses.
Another great thing about fat tire e-bikes is that they come equipped with varying assistance. So, you can choose according to your fitness goals or skill level. Whenever you feel exhaustion catching up, you can switch to your preferred bike assistance – depending on the options available to you. `
Common Differences in a Conventional and Fat Tire E-bike
| | | |
| --- | --- | --- |
| Feature | Conventional E-Bike | Fat Tire E-bike |
| Tires (diameter) | 1.6''– 2.6'' | 3.8'' – 4'' |
| Tire Suspensions | Available | Available |
| Ideal Surfaces to Ride | Paved road | Off-Road |
| Traction | Similar to conventional bikes | Higher traction, more impact |
Little Maintenance
Initially, these bikes came into being to traverse for snow-laden surfaces, where regular ones did not work. Modification to accommodate all terrains did not take away the ease in maintenance component. One of the vital benefits of fat tire e-bikes is their ability to function at varying pressures, especially on lower pressures. Owing to their tire structure, they are less likely to puncture, therefore, have lesser hassle on the user's part. Plus, they are less prone to wear and tear. Fat tire e-bikes have a thicker and sturdy frame, reducing the chances of damage. So, you won't need to take it for repair and parts replacement as often as a regular bike. All these factors combine to considerably reduces your maintenance cost and efforts.
Now that you are interested in getting a fat tire e-bike, you may want to know which suits you more. There are many options available in the market; it can get confusing when choosing for yourself. So, here are some considerations that you need to take into account before buying an e-bike.
Types of Fat Tire E-Bikes
Fat tire e-bikes are available in the same categories as conventional bikes and e-bikes. Read along about each of these and choose which meets the purpose you intend to achieve with your e-bike.
Fat Tire Mountain E-bikes – these are suitable for riding off-road and on trails. These come with similar features as conventional mountain bikes, such as full-size frames.
Folding Fat Tire E-bikes – these are bikes with smaller frames and can easily be folded. These bikes are perfect for daily commuters or family trips.
Hunting Fat Tire Electric Bikes – these are similar to mountain fat tire e-bikes, except they come with specs and complimenting accessories suitable for hunting or other outdoor activities.
All-rounder Fat Tire E-Bikes – these bikes have full-size frames, suitable for daily commuters. They trade off affordability with some high specs.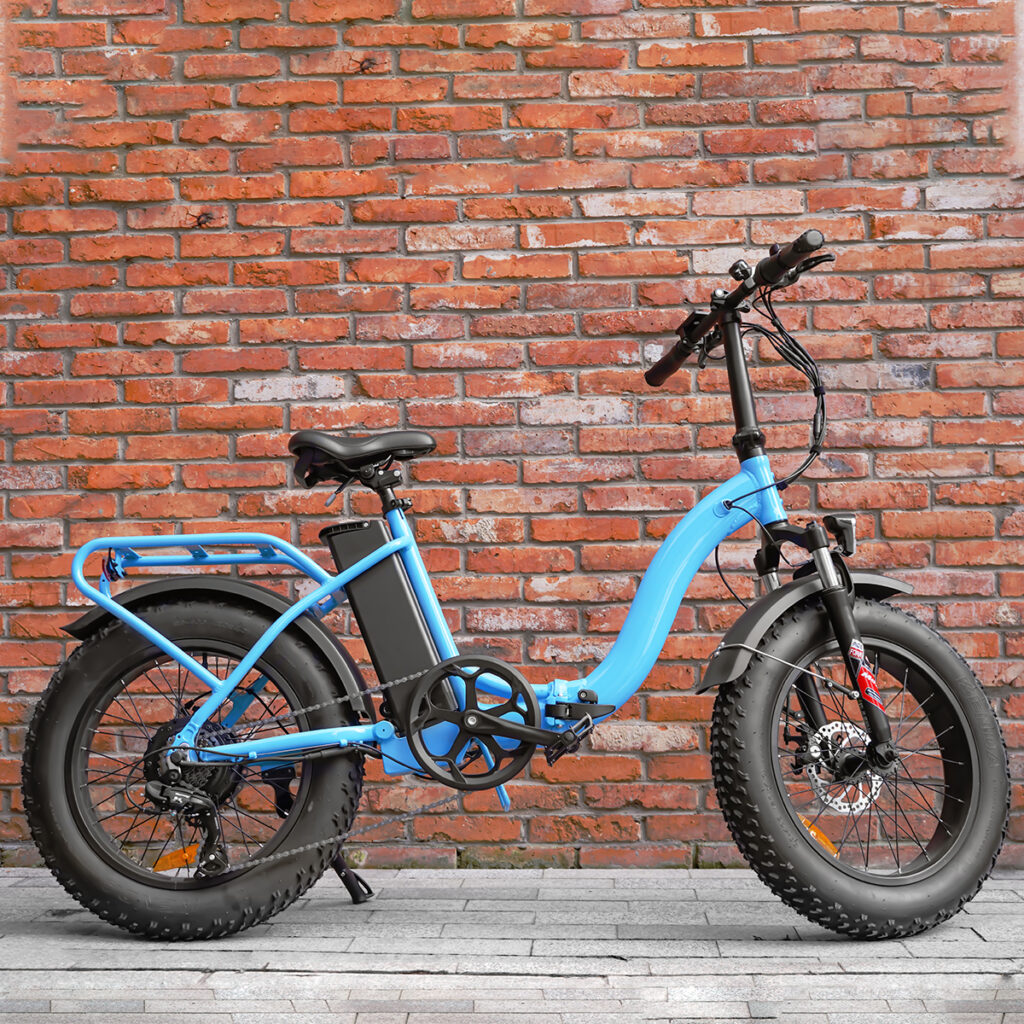 Frame Size
The fat tire e-bike frames are similar to the conventional bikes, except they are widened at the front fork and rear seat to accommodate the fat tires. If you already own a conventional bike, use its frame measurements as a reference to get your fat tire e-bike. Otherwise, you'll need to take some measurements. Your height, the height of your inseam (not the pant size), torso, and the length of your arm will help you decide which of the available options suit you best.
Position of the Motor
The type of motor used in an e-bike has an impact on its performance. Fat tire e-bikes have motors in one of three positions;
Front hub
Rear hub
Mid-drive
Mountain and hunting bikes employ mid-drive motors. They offer more power and balance. Consequently, they are more expensive and suggested for those planning to bike off-road. General commuters and those riding on flat surfaces are good with front or rear hub motors.
Power consideration for an e-bike motor depends on your weight and where you live. You need a less powered battery if you weigh less and live in a flat area and vice versa.
Breaks
Consider three things when checking the brakes of a fat tire e-bike; rotor size, pistons, and whether they are mechanical or hydraulic. Bigger rotor size and more pistons offer better braking power but add to cost. Mechanical brakes use a cable to pull the brake lever whereas, hydraulic brakes use fluid pressure to do the same.
Hydraulic breaks give an overall better experience, but they are more costly. You should only invest in them if you like to travel off-road and on tracks more often.
Suspension
Just like regular bikes, these bikes also usually come with front suspensions. You can also find models with both front and rear suspensions. Since dual-suspension adds cost, you should only consider them if you plan to engage in intense trail riding, hunting, or similar other activities that could benefit from additional suspension.
Conclusion
Fat tire e-bikes are more comfortable to ride. They let you explore more terrains and generally speaking, are easy to maintain. Since they are electrically powered, you may be tempted to enjoy the outdoors longer than you would with a conventional bike. Once you decide your purpose of buying one, with the right information, you can easily find a budget-friendly option.