If you are going to start your business as an e-bike dealer or seller, and you are searching for the best source of e-bike manufacturers in China, you are at the right place. Here is a comprehensive detail to provide guidance on what to keep in mind while choosing your e-bike manufacturer in China. Some elements are essential to look for, before buying your product. You should have sufficient knowledge about e-bike manufacturers too, who produce these e-bikes so that you can review everything about the process and technical specifications of the e-bikes, which you are going to sell in the market.
Let's discuss the must-haves salient aspects of an e-bike manufacturer in China, before directly jumping into the business.
Reliability and Cooperation
The most necessary element is that you have the best and cooperative team to deal with. While sourcing e-bikes from China, a lot of stuff would be addressable. From telling your needs and specifications you want in your e-bikes to discuss price and shipment details, everything would be easy going with a cooperative and best company. Investing in e-bikes is not just a matter of having enough amount of money; rather it is also a matter to look at various other things. So with the best source, you can have a sense of security while investing your money to purchase an e-bike.
When we talk about reliability, it would be hard not to mention HAIDONG. Actually, HAIDONG is renowned for delivering reliable e-bikes. Not only the firm specializes in fast production but it offers durable e-bikes.
Easy Communication
Good communication skills help to develop a great bond between the dealers and the manufacturers. When a manufacturer is honest and knows his responsibilities, the communication at both ends will be clear and accountable. Best customer service saves your customers from any ambiguity or confusion. So, you need to find an e-bike manufacturer with an enthusiastic customer care manager.
Provides Customer Service
Excellence is needed in every aspect of your business. An e-bike manufacturer with great customer service attracts more dealers from the market. Customer service includes dealing before and after orders, providing all the necessary details to the dealers about all the charges including information about machinery, manufacturing process, customization process, etc. The dealers who are new in the business, and don't know much about the market, are mostly confused while choosing supplying companies. With the best customer service, an e-bike manufacturer can satisfy his dealer to collaborate with them.
HAIDONG has exceptional customer service that is active all the time. It means that you can always reach out to them and consult them. It is as simple as that. Just reach out and have the answers to your queries.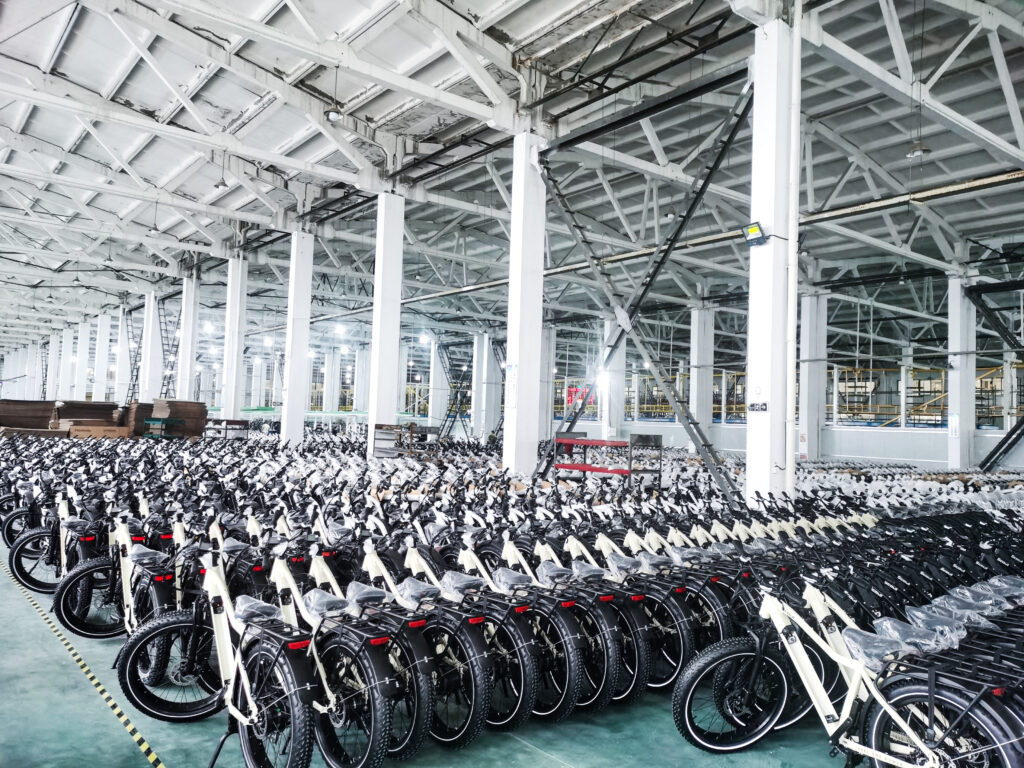 Quality and Speed in Production
Being an e-bike dealer, you are going to order your bikes in bulk, so the quality of the machinery and the speed of production is your ultimate need. A manufacturer with high-speed manufacturing with quality products is the best to choose. As we all know that the competition in the market is very tough. E-bikes are in high demand because of being environmentally friendly and a replacement for gym exercise. People love to buy them as their travel partners. So the supply of e-bikes should meet the customer's demand. The e-bike manufacturer with the best team of efficient engineers, and laborers can compete in the market, and a competitive manufacturer will help you to grow as a dealer.
When it comes to production, HAIDONG utilizes advanced technologies and methodologies to deliver high-quality e-bikes that can satisfy and meet the needs. For instance, the motors installed in the e-bikes are not only efficient but also require minimal maintenance. Being small in size, they add little weight to all the structures.
After-sales Services
As e-bikes have wholesome mechanical and electronic features, there must be a need for after-sales services. From guiding to assemble e-bikes to providing spare parts, the best e-bike manufacturer will provide you all. Some dealers order e-bike in parts, rather than assembled, so they need to learn all about the assembling procedures and technical aspects. For this purpose, the efficient and responsible e-bike manufacturer will provide you guidance with the help of his mechanical engineers. To increase the level of your convenience, videos and leaflets are also provided with e-bikes.
Warranty
When you are ordering e-bikes in bulk for your business, you have to ask your e-bike manufacturer for a warranty. If an e-bike manufacturer doesn't offer a warranty, it would be difficult for you to grab customers at your end. The best e-bike manufacturer will provide you feasible warranty policy with considerable benefits including the replacement of problematic bikes, core components, and risky parts. You can offer all these services regarding warranty to your customers too that will take your business to another level.
Customization
Along with the technical aspects, you being a dealer can ask for custom designs, colors, and logos printed on your e-bikes. To grow your business in a professional way, you need to choose an e-bike manufacturer who offers you complete customization including logo designs, brand name printing, color schemes, or manufacturing design according to your specific requirements. This is an indispensable fact that publicity for business help in progression. With customization, you can give your business great exposure.

Price
It is important for an e-bike manufacturer to provide you all the necessary information about price and shipment detail. There should be a good balance in price and quality of the product. Before ordering, you need to know all about the prices of the e-bike in stock, other charges for customization, and the charges of shipment. If you need after-sales services or guidance from engineers who manufactured the e-bikes, ask about their charges too, when a manufacturer offers you reasonable prices.
While e-bikes are quite expensive, HAIDONG ensures that such an issue is not experienced. It offers optimal e-bikes at affordable prices. Meanwhile, for manufacturers, all information regarding prices and costs is provided to avoid problems.
Transportation Ease
You need to figure out all the details about packaging and shipping procedures. From China, mostly e-bikes are transported to the USA and other European countries; it takes a lot of time. So, it is essential to get all the information about, how the bikes are being packed, do the packing is sturdy, how do they load to transport, how much time will consume in the traveling procedure, etc. All this information will help you to decide, whether you are investing in e-bikes or not.
Delivery Time
To build a trustworthy relationship with your customers, you need to deal with one of the most efficient manufacturers. If your e-bike manufacturer is able to deliver e-bikes in the required time, it would boost your business up. In-time delivery of the needed products is a key to success in a competitive market. Find an e-bike manufacturer who provides you with the fastest delivery services.
With HAIDONG, you can expect quick delivery times. After all, with 4 warehouses in different nations such as Germany, Canada, and Europe, the needs of customers and sellers are met efficiently. Furthermore, through automation, manufacturing time is reduced to a minimum. It means you can rely on HAIDONG for meeting your needs in terms of delivery time.
With all the above-mentioned elements, finding the best e-bike manufacturer in China is not a big deal anymore. We can suggest to you one of the most popular manufacturers for e-bikes in China named HAIDONG. It is one of the best e-bike manufacturers in China for the last 26 years. With a historical background, the company is providing its dealers with wonderful e-bikes.
Final Verdict
Hopefully, here you have understood the process, which you need to choose the best e-bike manufacturer in China for your business. You need to deal with the e-bike manufacturer who provides you the best quality product with on-time delivery. Before investing, if it is possible, then you should plan a physical visit to the e-bike factory of the manufacturer so that no ambiguity is left at your end in any terms.