To have good traction outdoors and to be able to commute in peace, you should not overlook buying a sturdy bike frame when you shop for e-bike parts. The e-bike frames help you get the ride you require faster, more comfortable, and durable in handling different terrains. In this article, we will tell you how to choose the perfect frame for your e-bike, depending on various aspects.
What is an E-bike frame?
The frame of an e-bike is the main component on which the other e-bike parts are assembled, like handles, wheels, etc. Modern e-bikes today come with innovative frame designs comprising two triangles; the rear one and the main one.
Importance of an E-bike frame
When purchasing or building an e-bike, it is extremely important to consider what type of frame to purchase. The material and frame design of the e-bike will influence its durability, shock absorption, stability, and load capacity. Therefore, it would be a wise decision and a one-time investment to purchase an e-bike frame that meets all your requirements.
What are some of the best e-bike frame materials to choose from?
Materials for electric bike frames depend entirely on how you want your e-bike to feel. Before choosing the suitable material for your e-bike frame, there are many other aspects to consider.
Various e-bike frame materials are available on the market, but we have listed a few commonly found materials. Continue reading.
Aluminum e-bike frames
E-bike frames made of aluminum are among the most popular structures available in the e-bike industry. Various survey reports say that almost 75% to 85% of the e-bike markets mostly have aluminum e-bike frames. There is an apparent reason for this. Using aluminum e-bike frame materials is easy to set up, lightweight, robust and affordable. These frame materials provide e-bike performance that is good enough for an average or casual e-bike cyclist.
There are two types of Aluminum materials available in the market. A 6601 Aluminum Alloy is the most common material used for e-bike frame construction. It is more cost-effective and easy to work with than the other aluminum.
The second type is the 7005 Aluminum Alloy, which is not so common but is stronger and more corrosion resistant than the 6601 Aluminum.
Pros and Cons of an aluminum e-bike frame
The pros of aluminum e-bike frames are:
City commuter bike.
Cost-effective.
Easily available everywhere.
Lightweight and balanced.
Some of the cons of aluminum e-bike frames are as follows:
Rapid corrosion. Corrodes in 3 to 5 years.
No natural shock absorption.
The rider would feel bumps more than any other material e-bike frame.
Not made for a rough trail ride.
It would easily break if not provided enough suspension support.
Steel e-bike frames
E-bike frames made with steel material were once prevalent but have started to fall out year after year. This is because other alternative frame materials are improving their quality day by day and becoming more popular. However, steel is more long-lasting than aluminum and more convenient than other e-bike frame materials like titanium or carbon fiber. In fact, when we compare a steel frame to any other material, we get to know that it is the most instantly repaired e-bike frame material and also more shock resistant. E-bike frames made of steel are popular among cross-country cyclists because of the heavy shock resistance they offer.
Pros and cons of a Steel e-bike frame
The pros for a steel e-bike frame are:
Easy to repair among all existing frame materials.
The most commonly available among older bikes.
Better shock absorption than aluminum.
Durable and more cost-effective than titanium and carbon fiber.
Some of the cons of a steel e-bike frame are as follows:
Not readily available in the market anymore, so you have to build your bike manually.
Heaviest frame material among all.
As electric bicycles are already heavy, the steel material weighs up to 90 or even 100 pounds, depending upon the design.
Cyclists cannot handle the bikes all by themselves due to their heavy weight.
Titanium e-bike frames
While remaining unpopular among the regular e-bike frame-making industries, the titanium frame material works best for those who want to build a customized e-bike. Titanium qualities are nearly the same as steel. Still, the material is more resistant to corrosion and the strongest among all the e-bike frame materials available across the market. This material is so long-lasting that its manufacturers offer a lifetime warranty against corrosion or any other defects in terms of performance and design to the buyers.
For this reason, titanium e-bike frames work best for premium mountain or cargo bikers. They are not as reasonable as steel or aluminum, but all your investment is worth it because of what you get in exchange for money in terms of its design, performance, and stability.
Pros and cons of titanium e-bike frames
The pros for a titanium e-bike frame are:
Provides the best weight support and is the most long-lasting.
Excellent corrosion resistance among all materials available.
Easy to repair.
Smoother rides on challenging trails, unlike steel and aluminum e-bike frames.
Some of the cons of a titanium e-bike frame are as follows:
More challenging to work with due to being not so popular in the industry.
Most expensive among all e-bike frames.
Gives a hard time integrating electrical wiring, thus making it more costly because of the hard work involved.
Carbon Fiber e-bike frames
The ultimate and the most innovative e-bike frame material that currently exists among the frame-making industries. The carbon fiber brings carbon sheets together by sticking them with a mold resin. This means no metal is involved in these types of e-bike frames. It is almost as long lasting as steel and titanium. It weighs much lighter and comes with many custom options. This e-bike frame material is more prevalent among those who need lightweight racing, extended travel, or a mountain bike. However, the density of carbon used in this e-bike frame has a massive impact on its performance, range, and feel.
Pros and cons of carbon fiber e-bike frames
The pros of carbon fiber e-bike frame are:
The lightest in weight.
No metal is involved, so there is the slightest possibility of corrosion.
Best for manufacturing the most exotic designs that are not possible with other materials.
Some of the cons of a carbon fiber e-bike frame are:
Easier to break than titanium or steel.
Require strong suspension support because of being too lightweight.
More rough and jerky riding feels as compared to other e-bike frame materials.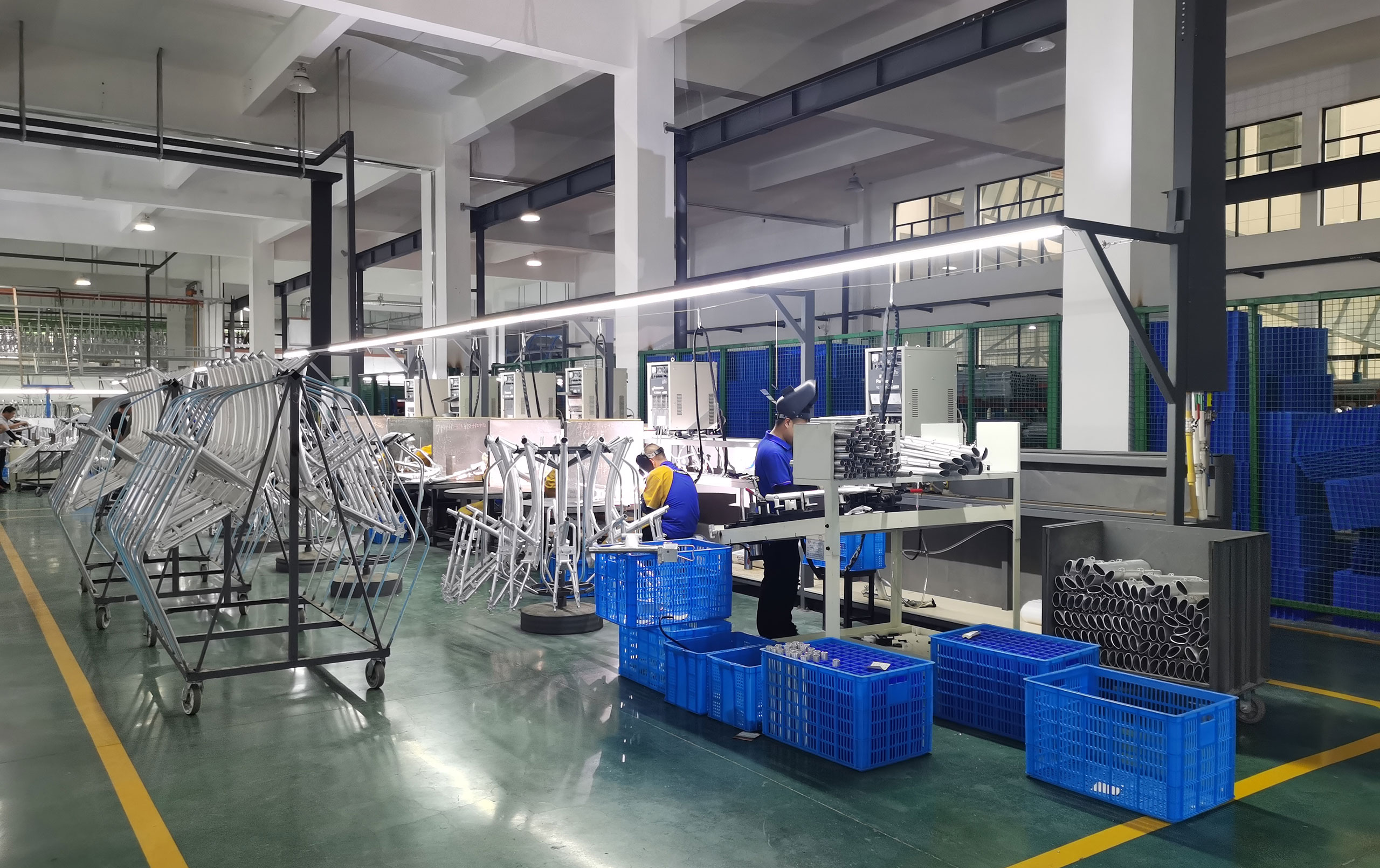 How to choose your desired e-bike frame material?
There are some necessary aspects to consider while choosing your desired e-bike frame material.
Budget
The most noteworthy thing to consider when buying an e-bike frame is the budget you can afford. Aluminum e-bikes are the most affordable option available that would not break your bank if you have a tight budget. However, these bikes do not last more than 5 years due to their durability but can work best if appropriately taken care of.
City commute
If you need a bike for your daily city commute, a carbon fiber or aluminum e-bike frame would be an excellent choice to go for. These frames are light in weight, providing a rapid acceleration to travel in the city. However, we suggest you choose a carbon-fiber e-bike frame in terms of quality.
Mountain e-bikes
Titanium and carbon fiber e-bike frames are just perfect for mountain bikers. Titanium is, however, harder to find and costs more than a carbon fiber frame.
Racing e-bikes
Due to its lightweight, carbon fiber e-bike frames are an excellent choice for cross-country commute or racing purposes. The carbon-fiber material offers rapid acceleration and the best battery range for your e-bike. However, you should keep in mind while choosing a carbon fiber e-bike is your weight. As we mentioned earlier, e-bike frames made of carbon fiber do not work the best for heavyweight cyclists.
Weight
If you are very tall and heavyweight, then a carbon fiber e-bike frame is not for you. This is because it is exceptionally lightweight and has more chances of breaking than other frames available. Therefore, if you are more on the heavy or taller side, consider buying steel or aluminum e-bike frame material.
Parting Ways
It will depend mainly on what you plan to do with your electric bike, as well as your own experience and preferences, whether you should pick an aluminum, steel, titanium, or carbon fiber frame. When you ride, where you ride, and how you ride are as important as your previous experience in biking. The question here is if you want a reliable e-bike to tackle formidable trails or a standard e-bike to explore the city with?
Despite our absolute best efforts to make it as easy as possible, you still have to consider many different yet corresponding factors when buying your e-bike frame. For this reason, e-bike frame manufacturers are taking all the aspects mentioned earlier into account. And are trying their level best to make what they feel will be an excellent decision to balance affordability, performance, and designs with their e-bike frames. Good luck with the buying!